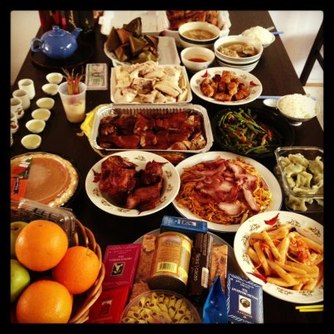 Chinese New Year lunch at my house.
My family celebrated Chinese New Year's this weekend. My mom just arrived from Thailand a few days earlier, and it was great to have the whole family together to celebrate. My weekend started off on a low note as I contracted the flu from some "shorter people" that I work with, but felt much better throughout the weekend. All that great smelling food couldn't keep me down!

For this year's celebration, we gathered early Saturday afternoon. My dad cooked up a variety of dishes (pictured here). My brother, sister, and brother-in-law brought some roasted duck, chow mein, and other delicious meals to add to the party. We set out the table, and a chair for each ancestor we invite to partake in the meal. Prayers and offerings are given three times, asking for good luck, prosperity and fortune for this coming year. Afterwards, we burn a wad of $10,000 Bank Notes so our ancestors can spend lavishly in the afterlife. After that, it was time to dig in and eat! Still feeling quite full! So happy Chinese New Year to you! Make this year count!