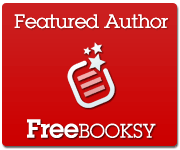 The great people at Freebooksy selected Genesis (Prophecy Rock Series, Book 1) to be featured on their wonderful site this past weekend. They added a great note saying:
"
Editor's Note: Most of the recent HUGE hit books (The Hunger Games, Twilight, Harry Potter, etc) have been Young Adult fiction. We picked these because one might be the next big hit!
"
Here's the
link
Who knows what the future holds, but it would be amazing to someday be mentioned alongside those great Young Adult titles!