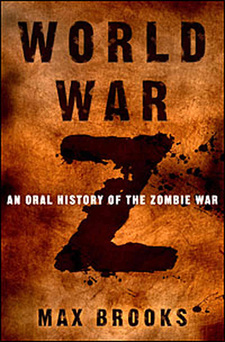 Cover Image Copyright Broadway Paperbacks
With the movie hitting theaters, I wanted to read the novel before going to watch it. There have been times where I've watched a movie based on a book, proceeded to read the novel afterwards, and found myself visualizing everything through the movie's perspective. Not a bad thing really, but the greatest thrill from reading a novel comes from each person's unique experience. Anyways, I'll save this topic for a later blog, on to the review!

World War Z by Max Brooks, published in 2006 as a follow up to his popular Zombie Survival Guide, is a wonderfully entertaining read and a pleasant surprise. Admittedly, I'm a casual fan of the zombie/living dead/undead/whitewalkers/whatever you want to call them. Most of my knowledge of the genre stems from the ubiquitous Walking Dead TV series (great show!), horror flicks, and the "I wanna eat your brains" character that we all know and love. So going into World War Z, I was expecting slow-as-hell Resident Evil type monsters chasing down a ragtag group of survivors (an old military vet, a young child, an attractive teenage boy and girl who fall in love, etc...). What I didn't expect was the unique perspective Brooks uses to tell the harrowing tales of survival from multiple global experiences. Stories of being attacked by throngs of decomposing zombies was just the teaser. The heart of what makes World War Z such an engaging read is the belief that Brooks' scenario seems almost plausible today. His social-political commentaries about the inefficacy of modern forms of government rings true - and the direction they will lead us down during a major crisis is a startling scenario. What would really happen if the world went to hell? (Literally). The Redeker plan proposed and utilized by many nations to quell the zombie uprising is shocking not because of what it proposes (basically it suggests using the population of survivors who have no practical survival skills as a diversion), but because its coldly calculated details sound like the only logical plan to ensure humanity's survival. And still, even after the tide is turned against the "Zacks" and humanity has repositioned itself once again as the top species on Earth; the post-war stress, trauma, and memories continue to haunt each and every single survivor. The last bastion of hope is when the next generation, and subsequent generations thereafter grow up in a time when the Zombie Apocalypse is relegated to a single unit in a history textbook. Only when you are that far removed from it will you finally feel completely safe.

Aside from the well-written and uniquely crafted plot, I truly have to commend Brooks on his level of detail and research. A litany of military terms and weapons, war strategies, and tie-ins to actual historical events (complete with footnotes) sounds like a monumental undertaking for a writer, but Brooks pulls it off effortlessly. At times, I did find myself glancing over some of the details about X-28Z-SS Missiles (ok, I made that up) but it sure sounded real to me.

World War Z doesn't have much to truly criticize; it's well-written, thoroughly researched, has an engaging plot full of action and human emotion. The only thing that slightly bothered me was the amount of interviews. I understand the need to have as many global perspectives as you can to paint a full picture, but some tales probably could've been left out. Many are memorable (the Chinese Submarine Commander, the two Japanese survivors, Yonkers, the female pilot, and more) but some I don't really remember either (I can't list them because I don't remember them).

All in all World War Z was a fantastic read, amongst a proliferating genre of zombie this-and-that coming out now, Brooks' work stands above the rest. I highly recommend this book to anyone, especially before you see the movie (although I hear the movie's script is a bit different anyways). Fans of horror, thriller, action, political, historical, and social (wow, he really covers everything) intrigue will find themselves turning page after page of this outstanding piece of literary work.

Oh, and the scene where the monkey pees in the soldier's face made me laugh out loud for a good straight minute.