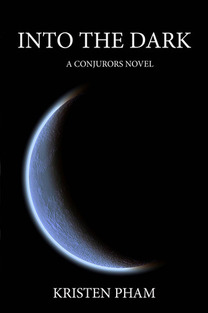 Into the Dark by Kristen Pham is a refreshing entry that stands out amongst the overly saturated genre of Young Adult Fantasy novels today. Her protagonist, Valerie Diaz, is an emotionally abused orphan who has already had her fair share of tribulations spanning her young 14 years of life. Where the cliche "unwanted hero saves the world" prototype could fall flat elsewhere, Pham expertly illustrates Valerie's motives and inner-struggles in a way that proves believable and honest. Valerie's time at the hospital beautifully portrays who Valerie is at her core, and sets the stage for her forthcoming globe/dimension trotting adventures. Accompanied by her once-imaginary friend Cyrus, bodyguard Thai, and wise-cracking-2pac loving Kanti, Valerie is whisked away to the magic-filled land of the Globe. When it comes to world-building, Pham is at her best, describing the colorful and distinct lands that exist within the Globe, including underwater cities, roaming temples, candy-filled dormitories, diverse peoples and creatures, and even unexpected means of transportation (roller-coasters and self-guided elevators) that children and adults will enjoy reading about.
On their journey to save Henry, a special child who unknowingly reaches out to Valerie for help, Valerie and gang encounter an assortment of monstrosities who stop at nothing to keep her from her goal. Even these villains prove to be more than simple run-of-the-mill ogres and what not, especially Sanguina, as she is cleverly crafted to make the reader both hate, yet wonder, where she's from and who she is.
The one area where Into the Dark does stumble slightly is in its pacing. As a fan of fast-paced adventure novels, I love it when an author can make me feel like I'm running out of breath, yet still manage to balance that between moments of self-reflection and doubt. Pham accomplishes this in most parts, but there were some scenes that felt a little rushed (the group seems to learn how to fight rather quickly). The story definitely builds up to an epic climax, but even still, it could've used a bit more developing in certain areas to have the payoff be even more rewarding. With that said, this is one minor flaw in an otherwise epic adventure.
Pham triumphs in her debut novel, invoking the grandiose worlds, mythological elements, and strange creatures that all lovers of the Fantasy genre will love and seamlessly combines them with the modern day. Teenagers will find themselves right at home with all the pop culture references and familiar struggles that only a teenager could truly empathize with. Readers of all ages will find themselves immersed in Valerie's mission of discovery through epic battles and subtle indications that point to something more sinister on the horizon. The first book in the Conjurors series is a wonderfully engaging read. Book two can't get here soon enough!
4 out of 5 stars!
Available at Amazon
Find out more about Kristen Pham at
www.kristenpham.com