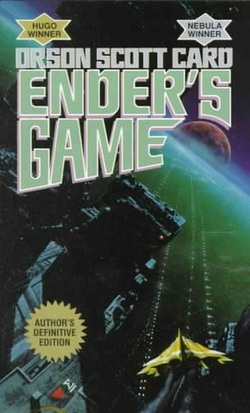 Ender's Game by Orson Scott Card

Ender Wiggins is a riveting and multifaceted character who is immediately established as someone of utmost significance to Earth's survival against the Buggers (he is essentially Earth's only hope). Ender is a genius amongst geniuses, and I forget that he begins his journey as a six-year-old boy, yet he talks like an adult, as do the rest of his classmates of similar age. At first, it seemed rather unbelievable, but I soon forgot about it as the story continued to draw me in. It then occurred to me that child geniuses probably would speak like adults since they already possessed superior intellectual abilities (i.e. child prodigies who go to college sound much like adults).

Beyond his genius, though, Ender is deeply flawed by overwhelming feelings of insecurity, loneliness, borderline paranoia, and schizophrenia that are all made real by his dysfunctional relationship with his older siblings and fellow geniuses, Peter and Valentine. Due to the fact that Ender is a Third, a derogatory label for children born beyond Earth's two-limit child policy, he's unfairly subjected to a litany of prejudices by strangers, authority figures, classmates, and even by his own parents who do love him but simply cannot relate to him. Peter, though, a prototypical bully with sociopathic tendencies serves as Ender's hell during his early years. Even after Ender leaves Earth, Peter continues to haunt his younger brother's thoughts with Ender dreading the terrifying possibility that someday he will become just like Peter.

In the novel, Ender is subjected to one intense scenario after the next. From navigating the social complexities of school, reflecting upon his tenuous relationship with older classmates, dealing with bullies who push Ender to his absolute limits, or to the intense Battle Games that are so brilliantly realistic in war strategy, Card pulls it all off effortlessly. To that point, Ender's Game is now required reading for the U.S. Marine Corps, a testament to the soundness of the battle strategies and leadership training. The only moments when Ender seems to get any rest is in his sleep or during his time playing the fantasy game on his desk (much like an iPad) but both are just as restless as thoughts of Peter or the strangeness of the fantasy game haunt him relentlessly (the meaning of the fantasy game eventually comes full circle and is later explained). All this contributes to a book where there are few moments to breathe; leaving me wanting to flip pages all the way to the end.

The one break from Ender's tale comes through the chapters of Peter and Valentine as they utilize the Internet to post political rhetoric under usernames Locke and Demosthenes. The chapters are interesting as they serve to set up the scenario on Earth and are well written with Card's research into history coming to the forefront (including an update with the end of the Cold War and fall of the Soviet Union), but I couldn't help but rush through these chapter to get back to Ender's tale.

Ender is not a normal human being and never will he be one, he's too unique and is fated to be isolated and alone. The common man cannot understand the inner workings of a genius, so sometimes that ignorance can lead to fear. Ender's pure moments of humanity come in his bitter moments of sorrow as he internalizes the consequences of his own actions. No, Ender doesn't relish in harming others, but he also understands the long-term consequences of losing and thus cannot allow it to happen. It goes against his logic to do so. At one point, Ender is maddeningly jealous of Bonzo Stilner (despite being cornered by Bonzo in the shower) because Bonzo is allowed to go home after their fight. All Ender truly wants is to go home as well (indeed a very basic human want is to be safe) but he truly has no home to go to and so he must leave the normalcy of Earth behind.

Over time you would expect Ender's moments of crisis to begin to numb him, but he still mourns like a human, as a child even. Ender is indeed human, but even still he will be destined to die in a fishbowl by himself as a prisoner of his own genius. His lake house in Virginia and his moments on his hand-made raft are where Ender can be as human as he can, and that always means alone.

Ender is special and the enemy Buggers even know it when the end is revealed. Ender is destined for a great purpose in humanity's time in existence, and the fact that Ender's contributions go further than simply ending the war against the Buggers (more wars are always inevitable), but Ender's final compilation of Speaker for the Dead and Hegemon both give rise to a new religion worshipped by people on Earth and the colonies. Religion is his gift to them, giving them hope for the future.

Ender's cast of characters fully round out the story with every character serving a specific role. Characters such as Bonzo, who pushes Ender to a critical point of both desperation and transformation, Hyrum Graff who guides Ender from beginning to end with an iron fist, Alai whom Ender considers a friend and closest equal but remains hesitant to bridge that gap of friendship, to the precocious Bean who mirrors Ender's own life and becomes the primary subject of the Ender's Shadow Series. Valentine serves as Ender's only hope of normalcy, and Peter is the one who can utterly destroy that dream. I couldn't help but sympathize with Ender when he finally lets go of his emotions and cries to himself, acting like the child I forget he is.

Throughout the novel, it feels like Ender slowly loses his humanity as he is forced into situations where eliminating his most human basic human emotion is required in order to survive. He must think objectively, sacrificing friends and soldiers in simulated battles to win at all cost, or by isolating himself to keep his army's moral untainted. Only Valentine is able to reconnect Ender with his tenuous humanity, even though Ender seems to doubt it himself. Much like in their younger childhood (because they still are children), Valentine serves as the shield for Ender, protecting him from the madness and manipulative mental torment of Peter. It is because of her love and willingness to intervene that Ender is able to finally accomplish his goal.

A sign of a great book is that it transcends time and remains relevant to the present. Card's writing underlies political tensions that are still evident today and his futuristic scenarios seem highly plausible if we were to ever get to that point. His use of desks are essentially what we call tablets today. Telling, too, is the global connectivity of the Internet, primarily used in this novel as a means for political dissemination and platform building by Peter and Valentine. Peter seeks to become Hegemon of Earth and to rule in the aftermath of the war with the Buggers. Peter is a genius, a mad genius in his own right who's just smart enough to pull off world domination and simply sociopathic enough to instill fear in the reader of what kind of bleak world Earth would be if he were to rule. Peter's use of a pseudonym rings true as anonymous voices can gain power without repercussions (Cyber bullying, etc…) The dangers of posting anonymously online can be a double-edge sword. Just as great as it is to have Valentine (a child) have an outlet for her political genius… it's just as scary to have Peter's madness equally as accessible behind the safety of a computer.

In the conclusion, Ender is haunted by thoughts of xenocide when a surviving Bugger Queen reveals to Ender the Buggers side of the war. As his moral consciousness is tortured, he comes to understand the enemy that much better, making it all the more difficult to harm any bug, leaving Ender feeling emotionally battered and remorseful. Ender rectifies his xenocide by heading deeper into space, searching for a new home for the Bugger race to begin anew. Ender's Game is a masterful work that transcends time, always feels relevant, and asks probing questions about human nature. Just as enjoyable through the first read to the tenth read, it is deserving of being considered one of the greatest works of literary science fiction.